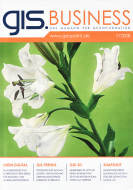 Press
Heidelberg ist online: Geodateninfrastruktur-3D
gis.business - Das Magazin für Geoinformation

7/2008
Internal news
Successful OC OWS6 Testbed showcases 3D Indoor Routing and more
- Wednesday May 17th 2009 - Arne Schilling

XNavigator is shown as an integrated client in the OGC Web Services, Phase 6 (OWS-6) final demonstration. The client is a decision support tool for first responders in an emergency case. It is used for accessing and combining multiple OGC services including Web Map Service (WMS), Catalog Service (CSW), Web Feature Service (WFS), Open Location Services (OpenLS) Route Service, and the experimental Web Map Tiling Service (WMTS). The dynamically downloaded spatial information and 3D city models is used for assessing the situation on site. The route service is used for calculating 3D driving instructions as well as for finding interiour access routes to locations within buildings. The demonstration shows how 3D indoor routes can be visualized and combined with LOD4 indoor CityGML models.

See the OWS demonstrations on the OGC website http://www.opengeospatial.org/


Article about OpenStreetMap-3D in "Technology Review" magazine.
- Monday April 20th 2009 - Alexander Zipf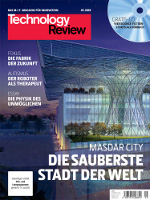 An article in the German version of the magazine "Technology Review - The M.I.T. Magazine for Innovation" introduces shortly the project OpenStreetMap-3D, the first nation-wide 3D-version of OpenStreetMap which is available as online 3D Web Service. (TR 5/2009, page 20).

More information, the prototype, screenshots and videos are avaialable at OSM-3D.org .
Integrating Video-Feeds through Sensor Observation Services (OGC SOS) in "GDI-3D.de"
- Monday March 23rd 2009 - Alexander Zipf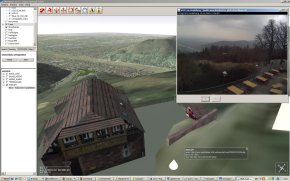 In addition to the existing sensor values for gauges (water level), temperatur, wind, air pollution etc. now also Video Feeds from WebCams have been integrated in the W3DS-Client XNavigator from "GDI-3D.de".
The example shows a screenshot from "Heidelberg-3d.de".
New Videos show new features of www.heidelberg-3d.de
- Monday October 13th 2008 - Alexander Zipf

New videos are available in "Videos"

For viewing the videos the DIVX video codec needs to be installed.
You can also experience the system interactively online by clicking on "Start Heidelberg3D"
Research Group Cartography participates in OGC OWS6 Testbed with CityGML 3D Flythrough
- Saturday October 11th 2008 - Alexander Zipf
OWS testbeds are part of OGC's Interoperability Program, a global, hands-on and collaborative prototyping programdesigned to rapidly develop, test and deliver proven candidate specifications into OGC's Specification Program. We have been selected to participate in the OWS6 threads on "Decision Support Services" (DSS) and "Geo Processing Workflow" (GPW) based on technologies from www.gdi-3d.de
GDI3D in den Kartographischen Nachrichten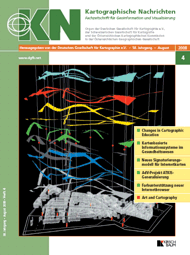 Die Fachzeitschrift für Geoinformation und Visualisierung "Kartographische Nachrichten" veröffentlicht in ihrer August-Ausgabe Heft 4 / 2008 den Artikel "GDI3D Geodatenstruktur für 3D-Geodaten - Beispiel Heidelberg".
OpenLS Directory Service integrated
- Friday August, 15th 2008 - Alexander Zipf
It is now possible to access an OpenLS Directory Service, perform spatial queries for Points of Interest (POIs) and display them in 3D. The POIs have been imported from the OpenStreetMap data. They contain a variety of important and interesting locations like shops, ATMs, cafes, pharmacies, bus stops, hotels, night clubs, and many more. The possible categories are unlimited and the data is being extended rapidly. The user can click on the map and search for specific types of locations within a selected radius. The result is shown as 3D labels using the OSM symbols.
3D Smoke Emission Simulation based on OGC standards
- Friday July, 25th 2008 - Alexander Zipf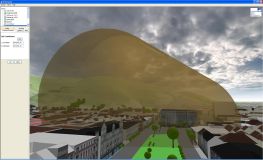 As a showcase for demonstrating the potential of applying the OGC Web Processing Service (WPS) standard as a means to integrate the results from 3D simulations into applications based a 3D geospatial data infrastructure (www.gdi-3d.de), we integrated a very simplified 3D smoke emission simulation. The simulation does not mean to provide a realistic result currently (it is not a physical model!). It only shall demonstrate the potential of using the OpenGIS WPS in a 3D environment. The WPS caclulating the 3D simulation gets as input the location of the origin of the smoke emission and then dynamically queries a OGC Sensor Observation Service (SOS) for the current speed and direction of the wind. Based on this the WPS calculates a simplified 3D object that is returned and visualized in the 3D viewer. The 3D spatial data infrastructure has been built on several OpenGIS Web Services (OWS) such as WMS, WFS, WPS, OpenLS, SOS and of course the Web 3D Service (W3DS).

A live demonstration is available at www.heidelberg-3d.de.
Heidelberg 3D goes online...
- Thursday July, 3rd 2008 - Alexander Zipf
...based on OpenGIS Web 3D Service (W3DS) and the XNavigator 3D Viewer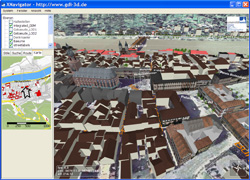 The whole City of Heidelberg is now accessible in 3D on the Web, using a Web 3D Service that has been implemented based on the OGC W3DS discussion paper. The data includes almost 40.000 buildings, partly with roofs and textures or even detailed geometries for the building facades. It includes also a high resolution digital elevantion model (5 meters) that has been re-processed for generating flat streets and several levels of details. Also street furnitures, monuments, fountains etc. have been added based on CAD models or terrestrial laser scans. This extensive model can be explored through our XNavigator 3D Viewer, that communicates with the W3DS using mechanisms such as streaming, compression or optional encryption etc.

The XNavigator is a Java WebStart application that will be installed following this link
[ http://www.geog.uni-heidelberg.de/lehrstuehle/gishd3d/index.en.htm ]

Please make sure that your computer meets the system requirements for 3D visualization and you might read the user manual for an overview of the features available. For example you can use our OpenLS Route Service to define your own visual style for the 3D map. Please send us your comments!

New video on "3D Focus Maps"

- Monday June, 9th 2008 - Alexander Zipf

Different visual styles are dynamically applied to the buildings according to the distance to the route calculated by our OpenLS Route Service.
The idea is an extension to the work by Richter & Zipf 2002, but applied in 3D completely relying on OpenGIS standards. The styles are defined using the OGC Symbology Encoding and spatial  filters from the OGC Filter Eincoding specifications.

Further high-resolution screencapture-videos on interaction with Heidelberg-3D (OGC W3DS client-server) are online at http://www.gdi-3d.de

Flood of 1994 has been integrated in Heidelberg-3D

- Monday June, 9th 2008 - Alexander Zipf

Watch the video high-resolution screencapture-videos on interaction with our OGC W3DS client-server in this scenario.


 

 

Further videos are online at http://www.gdi-3d.de
Support of Google Earth KML

- Thursday May, 22th 2008 - Alexander Zipf

Our Web3D Service now also supports export to Google Earth KML

 

 

 
Heidelberg 3D supports aerial photographs now!

- Thursday May, 22th 2008 - Alexander Zipf

Support for aerial photographs in the 3D model of the city of Heidelberg is available. For further information see the project's website.

 

 

 



3D SLD Symbology Editor has been integrated in XNavigator

- Friday May, 17th 2008 - Alexander Zipf

Now you can define the look of 3D city models dynamically from the client side
© 2010 University of Heidelberg, Department of Geography, GIScience